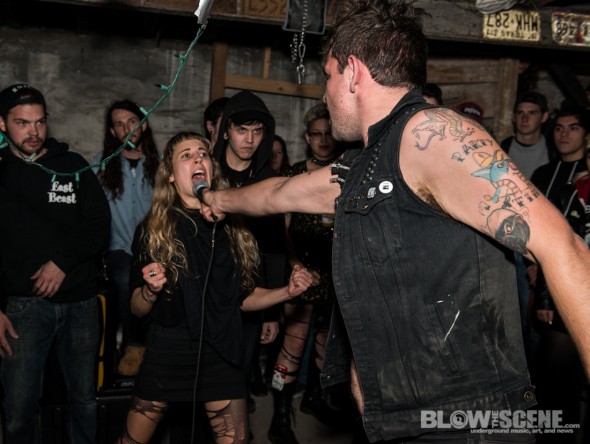 Philly House Shows pt XIII is brought to you as DC's kings of lighting-fast hardcore punk, Coke Bust recently tore through The Farm in West Philly with cohorts in Agent Attitude (Sweden), Protester, No Qualms, and Gash. This stacked bill was ripe with fresh talent that was busting at the seams with raw energy.
Coke Bust has been on a tear for the better part of 2013 with tours throughout the US and Europe as they continue to support a new LP, Confined, on Grave Mistake Records. This blistering 9-songer was recorded with Kevin Bernsten at Developing Nations Studios and can be sampled and purchased via the band's bandcamp.
Sweden's Agent Attitude are currently supporting a new EP entitled, Repulsive Action that is available through Flophouse Records and showcases the band's gritty hardcore punk stylings with 3 new tunes that can also be streamed and purchased via bandcamp.
Support was rounded out by DC's Protester, who feature members of Coke Bust. Protester wasted no time setting the floor in motion with fast, punchy drums and mosh-inciting vocal attacks. FL's No Qualms added a some deliciously crusty anarcho vibes into the mix with an explosive set that saw members flailing across all corners of the pit. No Qualms will be featured in 2013's 305 Fest in Miami alongside ACxDC, Skarp, Masakari, Dead In The Dirt, and scores of other leading underground talents. Last and certainly not least, Philly's own Gash rounded out the evening with their patented blend of noisy, punk-infused rock n' roll for what proved to be one of the raddest house bills of the year.
Without further ado, enjoy a fresh set of photos by BTS's newest contributing photographer, Bernard Jones of Influx Photography.
---
Gash
---
No Qualms
---
Protester
---
Agent Attitude
---
Coke Bust