Instrumental progressive unit Scale The Summit recently launched their first tour of 2014, a co-headlining run with The Ocean featuring support by The Atlas Moth and Silver Snakes. The tour included stops at South By Southwest and South By So What?! in the band's home state of Texas before winding its way through Philly's Voltage venue with special guests SADGIQACEA, where Blow The Scene's Senior Photographer Dante Torrieri joined the fray.
Scale The Summit are supporting a new album, The Migration, which received much critical acclaim and managed to dent the Billboard-charts. In a 9/10 review, Blabbermouth commented, "More contemporary prog artists need to take cue from "The Migration". Scale The Summit has always been adventurous in their work on top of articulate, but here they've presented a courageous blueprint on how to delve out communicative, methodical music with more efficiency than is the norm for this genre." This marked the first tour to see Scale The Summit incorporate video production into their concerts.
The Atlas Moth recently premiered "City of Light," a new song from the band's forthcoming album, The Old Believer, (due out early June on Profound Lore Records) via MetalSucks.net. Alternative Press, in a four-star review of the new album, said the band "have taken definite and deliberate steps to flesh out their wall of sound on album No. 3, accentuating their sludge roots with waves of psychedelic counterpoint." The Chicago-based band recently announced that they will be opening for Boris on several summer dates.
The Ocean have returned to North America for the first time since last year's The Summer Slaughter takeover. The tour welcomed new The Ocean recruits, drummer Paul Seidel and guitarist Damian Murdoch, who replaced Luc Hess and Jona Nido, both of whom departed the band on mutual terms late last year. The Ocean recently released a triple DVD set entitled, Collective Oblivion via Metal Blade Records, that showcases a wide range of tour material collected from tours around the world.
Silver Snakes continue to tour in support of their latest studio full-length, Year Of The Snake. Recorded by Silver Snakes' own Alex Estrada (vocals, guitar) at his Earth Capital Studios, Year of the Snake is an album that is massive in scope and some of the band's best material to date including mixing efforts by Brian McTernan at Salad Days (Cave In, Engine Down, Circa Survive) and mastering by Jay Maas at Getaway Recording (Defeater).
Philly's blackened sludge unit, Sadgiqacea rounded out the bill as the band continues to support recent full-length, False Prism, available on Anthropic Records. The duo, who have been picking up momentum around the region, will hit the road later this month for a full summer tour with label-mates in Hivelords.
Without further ado, enjoy a new exclusive batch of photos by BTS's Senior Photographer, Dante Torrieri (Useless Rebel Imaging).
---
---
---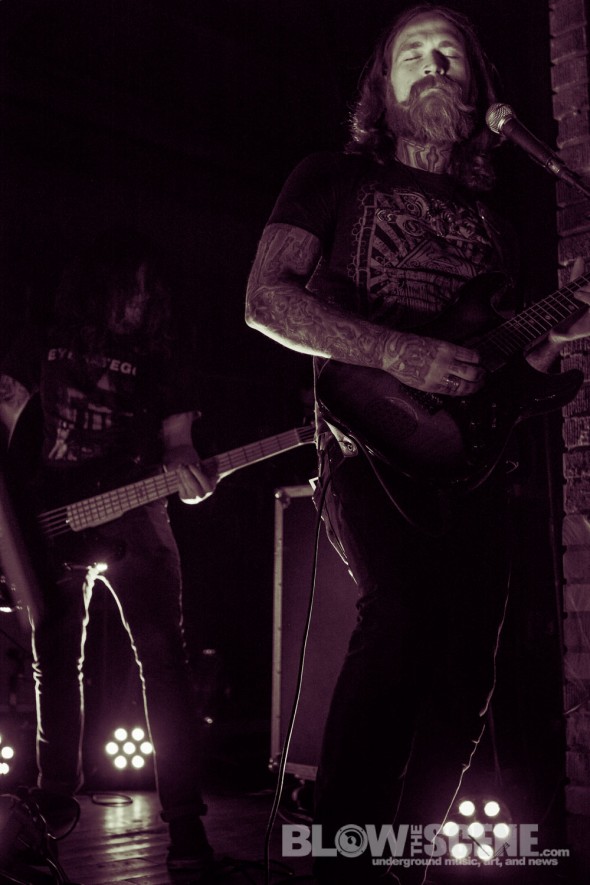 ---
---
---