New York City street punks The Casualties, who are touring in support of their ninth studio album, Resistance, recently blasted through Philly with an intimate showcase at O'Reilly's. Presented by Philly Hardcore Shows with local punk mainstays Bucket Flush, Reading PA's Common Enemy, and newcomers Barbaric. Not to mention this was Tribe Thirteen's 20 Year Anniversary Show.
The Casualties debuted a new video for the song "My Blood. My Life. Always Forward" in March, directed by Lewis Smithingham (Exmortus, A Global Threat) that can be viewed below.
The band is currently headlining a cross-Canadian tour with support from legendary punk band Dayglo Abortions. The following leg, which beings on May 17th, sees the band touring between several festival appearances including Punk Rock Bowling, Chaos in Tejas, and another festivals.
Scion A/V has released exclusive video footage of The Casualties from the October 2012's Scion/Season of Mist label showcase at Decibel Magazine. The Casualties footage includes an interview with guitarist Jake Kolatis, in addition to footage from the other showcasing artists (Saint Vitus, Atheist, A Life Once Lost, and Black Sheep Wall) and behind the scenes footage of the label and commentary from its staffers.
In addition to the video footage, Scion A/V has released a free, limited edition 7″ featuring live tracks from The Casualties and Saint Vitus. The 7″ audio can be streamed or downloaded here.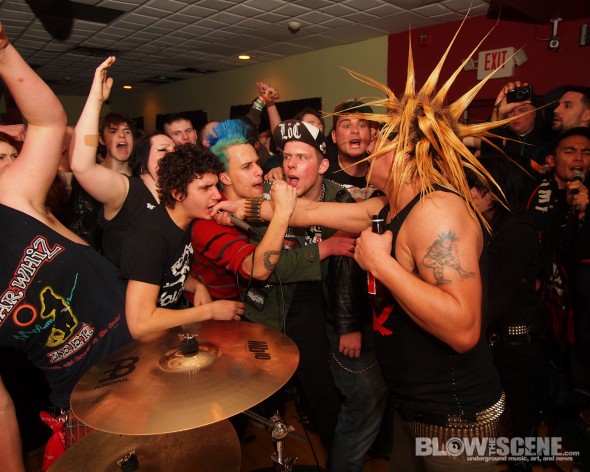 The Casualties Canadian Tour Dates
Sun. Apr. 21 Madison WI @ Knuckle Down Saloon (No Dayglo Abortions)
Mon. Apr. 22 Toledo, OH @ Frankie's (No Dayglo Abortions)
Tue. Apr. 23 London ON @ Rum Runners
Wed. Apr. 24 Toronto ON @ Sound Academy
Thu. Apr 25 Hamilton ON @ Club Absinthe
Fri. Apr. 26 Ottowa @ Mavericks
Sat. Apr. 27 Montreal QC @ Caberet Underworld
Sun. Apr. 28 Quebec QC @ Le Cercie Yannic
BRICKWALL INVASION: w/Violent Affair
Fri. May 17Trenton @ NJ Championship
Sun. May 19 Baltimore MD @ Ottobar
Mon. May 20 Columbus OH @ Ace of Cups
Tue. May 21 Newport KY @ Thomson House
Wed. May 22 St. Louis MO @ The Fubar
Thu. May 23 Kansas City MO @ Record Bar (18+)
Fri. May 24 Denver, CO @ The Marquis
Sat. May 25 Salt Lake City UT @ Salt Haus
Mon. May 27 Las Vegas NV @ Punk Rock Bowling Festival
Tue. May 28 Flagstaff AZ @ The Orpheum
Wed. May 29 El Paso TX @ Badlands Billiards
Thu. May 30 Austin TX @ Chaos in Tejas Fest
Fri. May 31 Oklahoma City OK @ The Conservatory
Sun. Jun. 2 Indianapolis IN @ The Hoosierdome
Photos by Blow The Scene Photographer Anne Spina (Anne Spina Photography)
---
BUCKET FLUSH
---
BARBARIC
---
COMMON ENEMY
---
TRIBE THIRTEEN
---
THE CASUALTIES