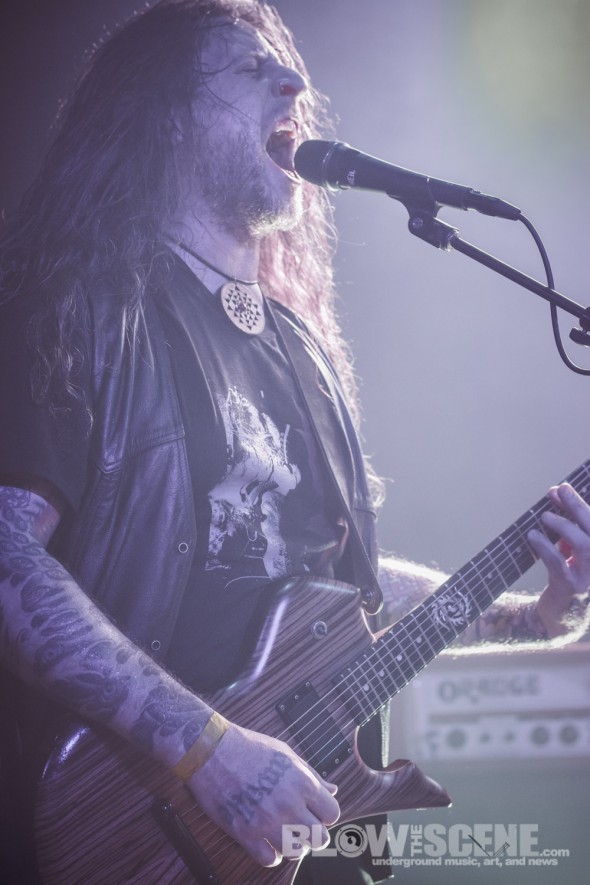 Critically-acclaimed metal band Black Cobra have released the new track "The Messenger". "The Messenger" is the third new track revealed from their forthcoming album 'Imperium Simulacra' and was featured as part of their live set on their recent tour with YOB. "The Messenger " is streaming now at The Obelisk. 'Imperium Simulacra' will be released worldwide on Feb. 26 and is available for pre-orders at Season Of Mist.
Black Cobra have recently announced an extensive North American tour. The tour, sponsored by CVLT NATION, kicks off on Feb. 26 in Madison, WI, and sees the band touring alongside Bongzilla and LO-PAN with additional support from Kings Destroy and Against The Grain. A full list of confirmed tour dates can be found below.
YOB will appear at Sabertooth Fest 2016 this weekend in Portland, Oregon which includes the likes of Super Furry Animals, Earth, King Black Acid, Red Fang, Witch Mountain, Eternal Tapestry, Built To Spill, Mikal Cronin with Emmett Kelly, Fresh & Onlys and Snakes.
Tour dates below and never before seen photos of YOB, Black Cobra, Solace, and Crypt Sermon from Philly's Unground Arts venue by BTS's Senior Photographer Dante Torrieri (Useless Rebel Imaging)
BLACK COBRA tour dates – All dates with Bongzilla and LoPan
Feb. 26 Madison, WI @ High Noon Saloon
Feb. 27 Iowa City, IA @ Oasis
Feb. 28 Fargo, ND @ Aquarium
Mar. 1 Missoula, MT @ The Palace
Mar. 2 Spokane, WA @ The Pin
Mar. 3. Seattle, WA @ Highline
Mar. 4 Vancouver, BC @ Rickshaw Theater
Mar. 5 Bellingham, WA @ Shakedown
Mar. 6 Portland, OR @ Star Theater
Mar. 7 Sacramento, CA @ Starlite
Mar. 8 San Francisco, CA @ Milk Bar
Mar. 9 Santa Cruz, CA @ Catalyst
Mar. 10 Los Angeles, CA @ Viper Room
Mar. 11 San Diego, CA @ Brick By Brick
Mar. 12 Mesa, AZ @ Club Red
Mar. 13 Albuquerque, NM @ Sister Bar
Mar. 15 Denver, CO @ Marquis Theatre
Mar. 16 Kansas City, MO @ Riot Room
Mar. 17 Ft. Worth, TX @ The Rail Club
Mar. 18 Austin, TX @ SXSW
Mar. 19 Austin TX @ SXSW
Mar. 20 Houston, TX @ Fitzgeralds
Mar. 21 New Orleans, LA @ Siberia
Mar. 23 Tampa, FL @ Orpheum
Mar. 24 Miami, FL @ Churchills
Mar. 25 Orlando, FL @ Wills Pub
Mar. 26 Atlanta, GA @ The Earl
Mar. 27 Asheville, NC @ Mothlight
Mar. 28 Richmond, VA @ Strange Matter
Mar. 29 Philadelphia, PA @ Kung Fu Necktie
Mar. 30 Pittsburgh, PA @ Altar Bar
Mar. 31 Hamden, CT @ Outer Space Ballroom
Apr. 1 Brooklyn, NY @ Saint Vitus
Apr. 2 Somerville, MA @ ONCE Ballroom
Apr. 3 Pawtucket, RI @ The Met
Apr. 4 Montreal, QC @ Foufounes Electriques
Apr. 5 Toronto, ON @ Mod Club
Apr. 6 Detroit, MI @ Loving Touch
Apr. 7 Cleveland, OH @ Grog Shop
Apr. 8 Chicago, IL @ Reggies
---
Solace
---
Crypt Sermon
---
Black Cobra
---
YOB