Fundraiser – Artists for Animals Show Series: P.A.W.S. BENEFIT DRIVE!
Richard Stockton College Art Professor Ryann Casey and BlowTheScene.com Editor-in-Chief Joshua T. Cohen, have teamed up to host an Art Show and Music Concert to benefit for no-kill animal shelter and rescue P.A.W.S (Philadelphia Animal Welfare Society).
This Fundraiser Project has been created to fund the overhead costs for the 2 simultaneous events with any extra funds being added to our Music and Art Show donations to P.A.W.S.!
We have set our project goal at $2500.00 to fund the two events with any extra funds being added to our Music and Art Show donations to P.A.W.S.
The reason we have chosen to do this fundraiser is free up more funds generated from art pieces sold and admission donations of the June 29th concert so they may go directly to P.A.W.S.
BlowTheScene.com and Ryann have organized some exciting and unique Reward Packages for donors explained in great detail below and in the video above starting at 5:10 (Artists Prizes) and 5:36 (Custom Photos From BTS of Your Choosing Printed on METAL!!!)
---
HOMEWARD BOUND ART SHOW
The Homeward Bounds Art Benefit Show portion will feature works by over 50 artists who have contributed mixed media pieces to be featured and sold for charity May 9th through July 10th, 2013 at Philadelphia vegan eatery and art gallery, Grindcore House. In addition to the art show, Ryann and our volunteers are constructing an "adoption wall" that will chart the progress of the current animals up for adoption at P.A.W.S.
BLOW THE SCENE LIVE CONCERT
BLOW THE SCENE FEST 2013: Artists For Animals portion will take place on June 29th, 2013 at Philadelphia's Broad Street Ministry and will feature live music from touring musicians, artist displays, non-profit information and tabling, monetary and physical item donations, information booths, and much more. For more info on the concert, click HERE.
---
THE WHY?
Every year in Philadelphia, more than 30,000 homeless, abandoned, and unwanted dogs and cats enter the city's animal control shelter. Approximately four in ten of them – 12,000 pets – never make it back out alive. PAWS is committed to reducing that number, and to leading Philadelphia toward becoming a no-kill city.Support for PAWS funds lifesaving initiatives which help reduce and will ultimately eliminate the unnecessary killing of Philadelphia's healthy and treatable pets. Through its adoption locations, special events, and foster care network, PAWS finds loving homes for thousands of animals each year.
The motivation for these events is bring together a large group of artists of different mediums from around the world, to raise awareness and benefit the efforts of P.A.W.S.. P.A.W.S. works everyday to save the lives of abandoned dogs and cats while also providing affordable spay and neuter programs for one of the largest metropolitan areas in the country. While helping and raising awareness for the plight of our four-legged friends, these events also give us an opportunity to showcase dozens of talents, including established and emerging artists alike.
---
The Funds
The funds raised will be used to pay for the overhead associated with hosting a 2-month art show and music concert.
For the art show- funds will be allocated to pay for show posters, show invites, supplies for the adoption wall, and shipping costs.
For the live concert event- funds will be allocated to reimburse the traveling musicians, some of which are traveling thousands of miles. Other costs include venue rental, sound equipment rentals, show posters and flyers, and food for volunteers and performers on day of show.
---
The Rewards – What You Get!
Custom Picture prints on Paper OR Metal!
Blow the Scene's Senior Photographer, Dante Torrieri, has offered up some incredible gifts for donators. Depending on donation level, donators will be able to choose from 1000s of photographs Dante Torrieri has taken at BTS (which can be viewed easily by visiting https://blowthescene.com/tag/dante-torrieri) and have them printed on paper or his very unique and special prints on metal!
***UPDATE! BTS Photographers Anne Spina and Jon Van Dine have added their photos to selections for donors! Just click on their names to peruse thousands of pics!!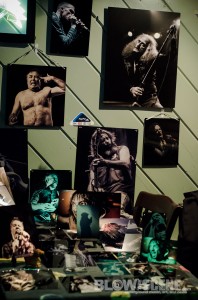 That's right, have a picture by Dante Torrieri from Blow The Scene of your choosing- printed on metal. These amazing artist-quality prints, unlike traditional photographs, don't bend and are extremely durable because they are printed on metal! The prints also outlast traditional photographs with print lifetime guaranteed over 100 years!
PHOTO PRINT ON METAL EXAMPLE IN VIDEO 5:36
The $1000.00+ donators will not only get his or her choice of picture for the massive 18″ by 20″ metal print– but we will retire your picture! We'll never print another like it for these motivated donors, you will have a true 1-of-a kind.
Artists rewards include custom artists T-shirts from the mixed media art show, custom band picture prints on paper, June 29th concert posters, Homeward Bound Art Show Posters and artists Pin Sets.
---
Status of Projects
Joshua and Ryann have already been busy for months preparing the art show and live concert events. Over 50 artists have confirmed art submissions, many featuring dog and cat motifs, to be sold at Philly vegan eatery and art gallery, Grindcore House May 9th through July 10th, 2013. Apart from organizing the art show, an adoption wall is also being constructed that will be featured at Grindcore House in tandem with the art show.
So far 8 bands from all over the US have been confirmed to perform at Broad St Ministry on June 29, 2013 in addition to the scores of artists, vendors, and non-profit groups that will also have a presence at the all-day event. We will be featuring many of the participating artists as part of the publicity leading to the event. Artists will be showcased on the online magazine with pictures, work samples, interviews and more.
Final preparations include art show invitations, concert posters, online banners, adoption-wall physical construction, final band confirmations, final show organization, press releases, and volunteer organization.
---
History
Joshua met his partner for these current artists events, Richard Stockton College Art Professor Ryann Casey, while covering two previous successful benefit art shows that Casey hosted for the The World Wildlife Fund and bat populations afflicted with Whitenose-Syndrome that were featured on BlowTheScene.com. Those events saw scores of artists from around the world donate mixed media pieces that were auctioned off to benefit the corresponding drives.
Having found a mutual love of the arts, animals, and taking action to benefit those in need while gathering a vast networks or artistic talents, Joshua and Ryann hope their current endeavors are first of many art shows and concert seriers.
---
Challenges
When hosting art and performance shows, one of the main challenges is always proper promotion through multiple mediums to ensure a good turnout. After promotion is organized, making sure all elements of the shows are accounted for and timely so that performers, volunteers, workers, and attendees have as an enjoyable of an experience as possible. With the purpose of these events to benefit PAWS, we have the additional challenge of keeping our overhead to an absolute minimum so we can allocate as much of the funds generated from these shows to PAWS.
Our goal is to have this fundraiser project cover our overhead expenses of these events so we can allocate all monies generated from these shows to PAWS.
We are confident that these shows will be a flourishing success. Joshua has extensive experience employing massive online ad campaigns through BlowTheScene.com including years of experience hosting and participating in live music performances. Ryann Casey is a well-respected artist, lecturer, and Art Professor at Richard Stockton College and has experience organizing large gathering of artists for similar art shows in the past. Casey has built a reputation through her incredible mixed media art works and passion for animals that has seen two recent successful art shows benefitting World Wildlife fund and threatened bat populations in North America. Joshua's unique role as Editor-and-Chief of BlowTheScene.com gives the project access to tens of thousands weekly readers from Philadelphia and 182 countries from around the world. Joshua also has experience hosting live music events for non-profit groups. Through past experiences and support from animal lovers, artists, and linke-minded people from around the world, we are thrilled at this project's emerging buzz as you join us for this meaningful series of events.
---
UPDATE 5/10/13
We are very excited to have brought Earsplit PR on board as an official sponsor of Blow The Scene Fest 2013 as the Homeward Bound Art portion, curated by Prof. Ryann Casey, launches tonight at Grindcore House.
With Earsplit PR on board we know the benefit drive will reach new heights and we wanted to give donors a chance to contribute all the way through the events!
---
Please feel free to send ANY questions (donors, rewards, shows, options, shipping, anything..) to joshua@blowthescene.com
---
Special Thanks To:
P.A.W.S.
A.C.C.T. (frontline responders in Philly)
Ryann Casey
All of Blow The Scene
Dante Torrieri
Deb Cohen
Kristin Scholz
Philly Urgents (Seen in above video)
Tim Shaw
Everyone taking part in the events!
THANK YOU
Artists for Animals

$1254

towards $2,500 goal

Give Any Amount Here:


Donate $10 or more
Enjoy a set of artist made custom pins from art show.


Donate $25 or more
Artist designed T-shirt from art show + artist pin set.


Donate $35 or more
Artist designed T-shirt from art show + June 29, 2013 Concert Poster 11″ by 17″


Donate $50 or more
11″ by 17″ custom band picture of your choosing from Blow The Scene print on paper + 1 T-shirt from art show + pin set


Donate $85 or more
4″ by 6″ custom band picture of your choosing from Blow The Scene printed on metal!! + 1 pin set


Donate $225 or more
8″ by 12″ custom band picture of your choosing from Blow The Scene printed on metal!! + T-shirt + 1 set of pins


Donate $599 or more
12″ x 18″ Large custom band picture of your choosing from Blow The Scene printed on metal!! + 1 pin set + 1 T-shirt


Donate $1000 or more
16″ by 20″ X-Large Custom Band Print of your choosing from Blow The Scene printed on metal! Plus we retire that picture forever. You will have the only print. 1 of kind. Never to be reprinted by us! + Tshirt + Pin set + Show Poster + 2 tickets to event with VIP food pass for June 29, 2013 show.