We caught up Hot Water Music bassist Jason Black for an exclusive interview on the eve of the release of the band's 8th studio album Exister, which hit streets Tuesday via Rise Records and marks the band's first new album in 8 years. Jason was kind enough to go in-depth for Blow The Scene readers around the world, discussing the creative and recording processes behind Exister, Hot Water Music's signing to Rise Records, tour plans, current influences, and much more. We were also on hand last night in Philadelphia, as Hot Water Music kicked off a series of record release dates at the legendary First Unitarian Church basement, so be sure to check back in the coming days for an extensive photo gallery.
Without further do, let's hear from Jason Black in this Hot Water Music full feature interview.
Joshua BTS: Thanks for taking a few minutes with Blow The Scene readers from around the world. Let's kick off by having you introduce yourself and declare your weapon of choice with punk rock juggernaut Hot Water Music.
My name is Jason Black and I play bass in Hot Water Music.
Joshua BTS: Your first full-length record in 8 years, Exister, is getting ready to drop on Rise Records tomorrow. Are you guys doing anything special for the release as a band?
Jason Black: No, we're flying to Philly tomorrow or driving to Philly, whatever [laughs]. Getting to Philadelphia tomorrow is pretty much the plan. We tried to work out a couple things here and there, everyone has got pretty tight schedules and we all live all over the place. So it's not the easiest thing in the world to get.. I shouldn't say get everyone together, but it's not like we can go 'Oh, hey let's play a show in Gainesville tomorrow' and everyone is already there.
Joshua BTS: Sure.
Jason Black: It takes a few days for everyone to get to the same place almost. Definitely one full day. We have showtime on Wednesday, so I am stoked, should be fun.
Joshua BTS: Awesome. We're based out of Philly, so we'll definitely be there covering the show, should be rad. This is going to kick off a small series of tour dates for you guys right?
Jason Black: Ya, we're doing Philly on Wednesday and we head up to Montreal on Friday, Bamboozle, couple New York shows, couple shows in California the next weekend. Just kind of as much of a record release thing as we could get together. We have a lot of in studio kind of promotional, press, radio things going on in and throughout all of that stuff. That's why the shows were focused in the New York and LA areas because that's where all that stuff is.
Joshua BTS: Right on. So to dive into this new record a little bit- Can you give us the skinny on this record? When did the actual writing process start for Exister?
Jason Black: It officially started last August when we were in Europe. We had decided 'Ok we're going to make a record, so let's start writing for it.' It just trickled down until around November when picked date to go record and settled on the Blasting Room and settled on Rise [Records] and got everything in line to go the path that we've gone. Then it really kind of kicked into high gear at that point, well..High gear as far as we go [laughs]. Trying to make a record in two months, we had a lot of material between everyone, we had more than enough. And luckily it all came together really well and pretty easily without too many hitches in the songwriting. We really weren't sure how it was going to go but ended up going great, so we're really happy and probably lucky [laughs] on a lot of levels too.
Joshua BTS: Were there any elements of the actual writing process that saw you guys step out of your comfort zone? Like any new voices added into the writing process? Or has it always been a collective thing?
Jason Black: Ya, it's still a super collective situation but with Chris and Chuck kind of running their own bands for the last few years they definitely had a more informed voice or a more complete vision for some of the songs. So, as opposed to just being like, 'I've got this kind of verse idea- What do we do?' I mean there was still plenty of that, but there was a lot of, 'Here, I wrote a song. Do we like it?' and 'Do we want to mess with it?' kind of thing. That was probably the biggest difference of something that never really happened before. It has always been super, super writing by committee. Also because these dudes weren't doing their own projects, so they never really had to finish anything by themselves. You know? So I think with that being part of the vocabulary now, I would say that might have lent itself to some of the conciseness of some of the material.
Joshua BTS: That's interesting too that you say with all the experience, with all of the other projects and bands, tours and stuff that the other members have going on, as being a positive. I know a lot bands when they have members spread out doing different projects you often hear it makes it a lot more difficult to get a recording together. It's cool to hear that you guys were actually able to take that experience and use it and create something new out of it.
Jason Black: I would say musically it is definitely a positive. Logistically it's kind of a negative [laughs]. But as far as the creative process goes, I think it's better if everyone keeps playing with other people. It's kind of the only way you learn being a musician. Getting time to do the band is a whole other story [laughs].
Joshua BTS: Who did you guys decide to do the recording with? And did you already have in mind what studio and engineers you were going to work with before you started the recording process?
Jason Black: Not really. We had kind of a short list and kicked around a couple of different people. We talked about our friend Brian McTernan who did the last three records with. But when the Blasting Room and Bill Stevenson and Jason Livermore got brought up, we were all kind of like 'Duh!' For some reason we had never thought of that. When that got put on the table we were all like 'Yes! Let's make this happen.' They were into it and had time and we again luckily squeezed in there and made it work. It wasn't a long decision process once they came up and were available. That became 'Let's figure out how this is going to happen and how we can do it.'
Joshua BTS: Awesome. While the album sounds polished and pure, with everything sounding huge, it also retains a lot of those live elements. I've seen Hot Water Music probably half a dozen times and you can still feel that live energy on the record. Do you guys employ any recording techniques or any pieces of equipment that you feel are pivotal for capturing the sound that is Hot Water Music? I feel like while you dabble in some new territory on this record, it still definitely has that Hot Water Music feel to it.
Jason Black: I would say by not using any particular equipment or anything, it was really a stripped down process of really just trying to record us as a band. Something we've always-I don't want to say we were never able to do in the past..It's always been something that we wanted to do and it never really happened for any number of reasons. This time, I think there wasn't a whole lot of studio magic or anything. It was a pretty straightforward process and I think that lent to capturing what we were hoping to do and what you noticed on the record. We were really just hoping to, 'Let's just record us playing the songs.'
Joshua BTS: Awesome. So how did you guys originally come to link up with Rise Records? Was it something where they approached you? Or just an obvious fit? How did that come into being?
Jason Black: They approached us last year when had made the executive decision to go ahead and push forward and make a record. We started talking about who we were going to do it with obviously and went through the list of usual suspects. They just kind of popped up and were like, 'Hey! We really want to do it!' I don't want to say they were the most excited.. but they were the most excited [laughs]. That's kind of been the way we like to operate- Whoever wants it the most is probably the best person to work with. That was kind of the short and long of it. It really was they kind of put their hat in the ring and out-shined everyone else as far as interest and excitability and everything. Very happy with our decision for sure.
Joshua BTS: Right on. Have you guys talked about- and I know it's still very new with the new release coming out tomorrow- But are you guys looking to work with them for future releases?
Jason Black: Yes. Contractually we have one more record with them. Unless they decide to hate us between now and then, that will be what happens [laughs].
Joshua BTS: So it's safe to say fans can expect a record sometime in the next few years?
Jason Black: Oh ya, absolutely. You never know what happens but that seems to be the general plan.
Joshua BTS: Very cool. With the obvious 8 year lapse between records- Did you weigh in any outside expectations for the band? Obviously you have amassed a very strong following of fans around the world throughout your career. Was that something that you took into consideration- That you still have a lot of long time fans that are very familiar with your catalog and were really waiting for new material? Was that something that you took into account when you were constructing these songs? Did you try and approach it with more of clean slate and just let it happen?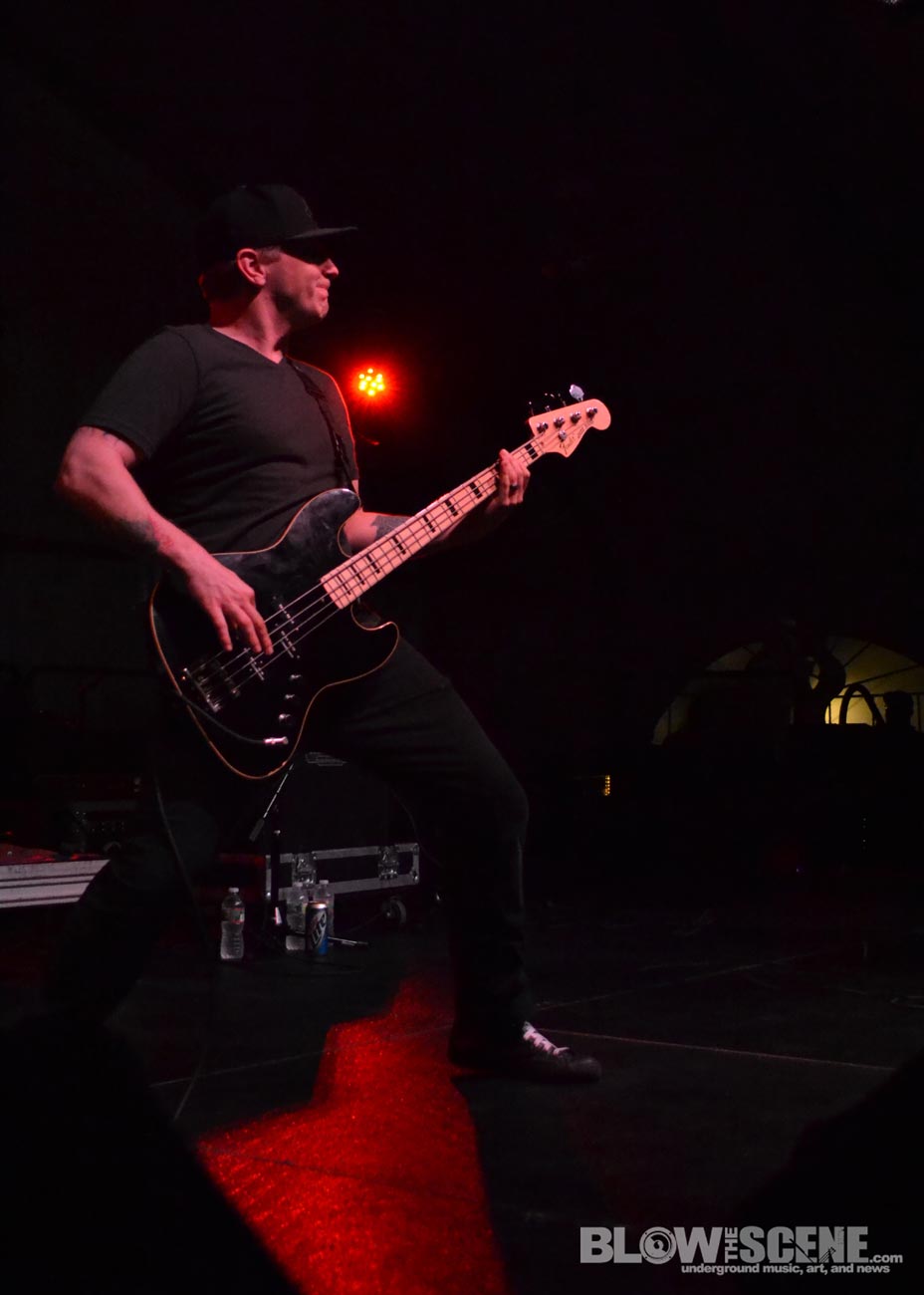 Jason Black: We really went into it with a clean slate. As much as we could sit here and say we didn't think about all those things you just mentioned, it is the natural thing to do. But we've always really, really tried to not let that weigh on any of our writing or anything weigh on any of those factors. There's a ton of people that are like, 'Oh they were way better before they signed to Epitaph,' which is so stupid [laughs]. They had absolutely nothing to do with the records we made on the label. You know? There has never been anyone who has said, 'You have to do X or Y or B,' it's always been our decision musically 110% all the way across the board. You could definitely go through the band and find people that like different records and different sets of songs better throughout the course of the band for sure. I think if we ever made a record like that it would be really apparent really quickly to everyone that we made a (pardon my language) a bullshit record. [laughs]
Joshua BTS: How did you guys land on the cover art of Exister? Did you guys approach an artist about doing the cover art? Is this something you guys had already planned out as you were going into the recording process?
Jason Black: No, actually. We tried to use the artist we used for most of band's career, our friend Scott Sinclair. He was legitimately too busy with real life. We ended up using our friend Richard Minino, who's been doing t-shirt designs for us lately and we're really happy with the outcome. It was kind of like, 'Hey dude! What do you have?' He turned it in and we were stoked, so again, lucky to have talented friends.
Joshua BTS: Awesome. So when you are not busy working with the band- What does your daily life look like?
Jason Black: Getting ready to work with the band usually [laughs]. We have so much stuff coming up there has been a ton of prep work. Waiting for the record to come out and we just got back from a few shows in Europe about two weeks ago and we're headed back over there next month for a couple of weeks and we'll be going back out in the fall. It's getting everything in order and getting everything up and running again having taken a break. The machine gets a little rusty as far as the day-to-day operations go.
Joshua BTS: Right on. So do you do music full-time?
Jason Black: Ya, ya, we all do it full time.
Joshua BTS: Are there any other current projects that you are working on right now?
Jason Black: I personally also play in this band called Senses Fail from Jersey and we're probably recording again in October. So everyone has a couple projects that they bounce back and forth between as much as possible.
Joshua BTS: When you are pulling inspiration for you bass licks- Are there any other bassists right now that are doing anything that really excites you? Or any other bands that you look to that are really exciting you as you were writing this record?
Jason Black: As far as playing goes, it's pretty much been the same dudes for a long time. Mike Watt, Karl Alvarez, like everyone who has played with Descendents, Tony Lombardo, most of the stuff I grew up on. I listen to a lot of jazz, as far as, when I'm not on tour listening to the bands we're on tour with. I think that figures into it a lot more for me. No disrespect to any of my peers or anything, there aren't a ton of super exciting bass players in the punk rock scene [laughs].
Joshua BTS: I hear you [laughs]
Jason Black: You know- It's fine, it's everybody's prerogative. I have to go outside for inspiration for the most part.
Joshua BTS: I know that you mentioned that you guys have a few tours lined up. Do you have anything else slated as we head into 2013? Any places that you are really looking forward to hitting up?
Jason Black: We're happy to be able to do what will hopefully amount to a full US tour this fall. We're still missing a couple places on it but you can't get everywhere all at once. Then for next year we are starting to pencil in the dates and get figured out what we have time to do and when we can do it. For us, a lot of it depends on everyone's schedules and sort of depends on the fate of the record and how it all ends up going. That will determine a lot, one way or the other, for sure.
Joshua BTS: That pretty much wraps up what I had planned for this round on interview questions. Any final thoughts as we close out?
Jason Black: Thanks for taking the time to do the interview, appreciate it very much.
Joshua BTS: Absolutely. We're really looking forward to seeing you guys on Wednesday in Philly. That should be a kick ass gig.
Jason Black: Ya I'm excited. I think its going to be a lot of fun.
Joshua BTS: Thanks again for the interview and we really look forward to keeping up with your future endeavors.
Interview by Joshua T. Cohen
Photos by Joshua T. Cohen and Dante Torrieri from Riot Fest East 2011.
---
Hot Water Music – "Exister" on Exister LP out May 15

More info:
Official Hot Water Music Website
Rise Records
Don't forget to check back in coming days for new gallery of Hot Water Music's May 16 Philadelphia performance!