Richmond, VA genre-destroying metallers Inter Arma are streaming their entire 45+ minute, single song EP entitled The Cavern via Pitchfork.
Originally written during the summer of 2009, but reworked and perfected over the last few years, The Cavern was recorded last year during breaks from the relentless touring the band did with the likes of Baroness, Russian Circles, Ulcerate and numerous others. The recording was captured with producer Mikey Allred at Dark Art Studios in Madison, TN, the same surroundings and setup that captured last year's monolithic Sky Burial LP.
Shifting from Americana laced extreme metal to doom to stoner rock to prog all within a single song, Inter Arma's The Cavern is an opus that will surely be heralded for years to come as a work of true artistic vision and endurance.
The EP, which features guest vocals from Windhand's Dorthia Cottrell will see it's official release in North America on October 14th, in the UK/World onOctober 13th and in Germany/Benelux/Finland on October 10th. Physical pre-orders are currently available now.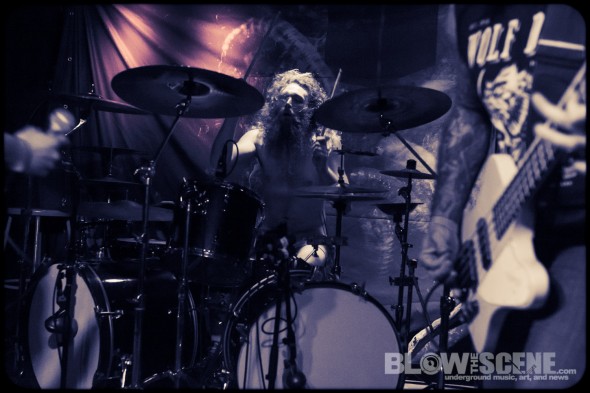 Additionally, the band has announced a short run of East Coast shows this October, including headlining the official MetalSucks/Metal Injection CMJ Showcase in Brooklyn, NY. The quintet has also confirmed a co-headlining European tour with German sludge duo Mantar this November through December. Inter Arma will also be making an appearance at next year's Maryland Deathfest. A complete listing of tour dates is available below.
Inter Arma US dates
Oct 21 – Brooklyn, NY, Acheron w/ King Parrot, So Hideous, Lazer/Wolf and Moon Tooth
Oct 22 – Philadelphia, PA, Mitten House
Oct 23 – Lindenwold, NJ, Sex Dungeon
Oct 24 – Harrisonburg, VA, Blue Nile
Inter Arma European shows
Nov 27 – Athens, Greece TBA
Nov 28 – Tilburg, The Netherlands, Little Devil
Nov 29 – Nijmegen, The Netherlands, Merelyn
Nov 30 – Antwerp, Belgium, Music City
Dec 01 – London, England, The Black Heart
Dec 03 – Glasgow, Scotland, Audio
Dec 06 – Gigors, France, Gigors Electric
Dec 07 – Draguignan, France, Bucephale
Dec 08 – Geneva, Switzerland, TBA
Dec 09 – Milan, Italy, Lo-Fi
Dec 10 – Bologna, Italy, Freak-Out
Dec 11 – Vienna, Austria, Arena
Dec 13 – Leipzig, Germany, Zorro
Dec 14 – Prague, Czech Republic TBA
Dec 15 – Flensburg, Germany, Luftschlossfabrik
Dec 17 – Olso, Norway TBA
Dec 18 – Aalborg, Denmark, 1000Fryd
Dec 19 – Lyngby, Denmark, Templet
Dec 20 – Leeuwarden, The Netherlands, Romein
More exclusive photos of Inter Arma in Philly By BTS's Dante Torrieri