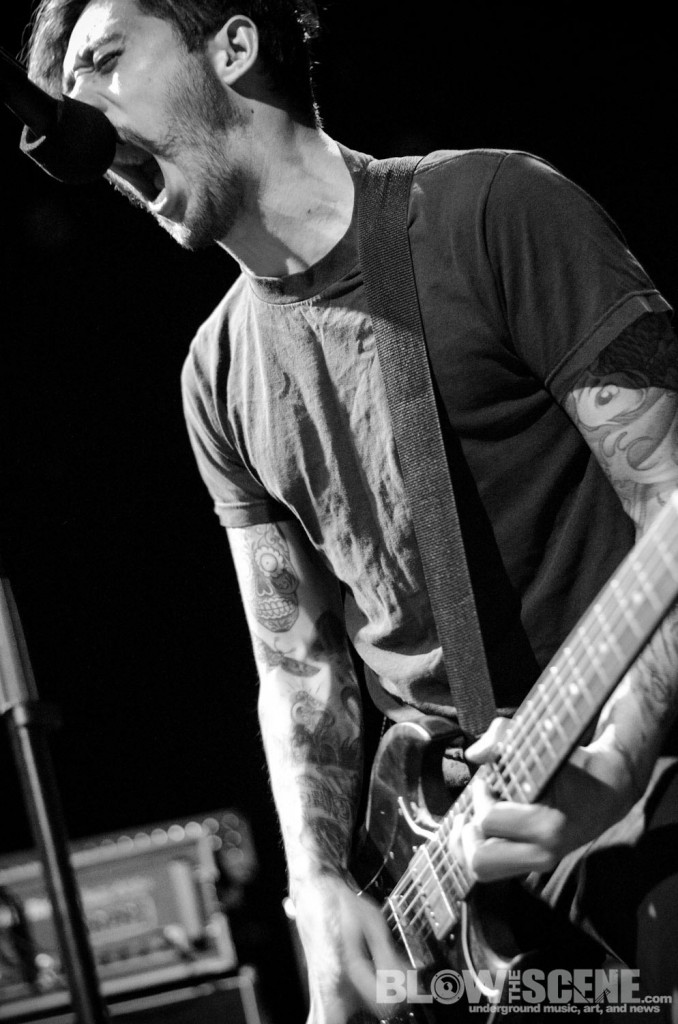 Bay Area, CA's Loma Prieta is on tour in support of their debut album for Deathwish, titled I.V., which was released last year and hailed as "…ambitious, tooth-grinding, and feedback-fucking in a Dropdead-meets-Pg. 99 cyclone of bile, I.V. adds chaos to injury in the best possible way" by the AV Club. Formed in 2005, Loma Prieta have been a mainstay of the Bay Area hardcore community for more than half a decade. In that time they have released four 12-inch records and two 7-inch records mostly on their own label, Discos Huelga. They have also toured the U.S., Japan, Canada, and Mexico numerous times, all while members play in several other hardcore bands (Punch, Beau Navire, Us Haunted Bodies). While Loma Prieta's sound is difficult to describe, it is clear that they come from the rich tradition of creative Bay Area hardcore bands such as Mohinder, Funeral Diner, Bread and Circuits, Yaphet Kotto, and Indian Summer. Eschewing sub-genres in favor of organically writing songs that are personally fulfilling, each Loma Prieta record is substantially different from the last. Nonetheless, Loma Prieta have managed to forge a distinctive form of expression that is entirely their own.
The UK's Goodtime Boys, a new addition to the Bridge Nine Records roster, recently released their debut LP for the label, What's Left To Let Go. This 10-track album was mastered by Jay Maas (Defeater, Bane) and features five tracks from Goodtime Boys' previously released EP Are We Now or Have We Ever Been and five brand new songs. The album was called "…nothing short of a masterpiece. It's moving, and emotionally gripping, and definitely on my list for Album of the Year…" by The New Review. This tour will mark Goodtime Boys' first US tour ever.
LOMA PRIETA – ON TOUR
March 12 – San Diego, CA @ Che Café w/ Griever, Nervous
March 13 – Phoenix, AZ+++ @ The Nile w/ Nervous
March 14 – El Paso, TX+++ @ TBA w/ Nervous
March 15 – Austin, TX @ 1808 w/ A Life Once Lost, Powertrip, RZL DZL, Whirr
March 16 – Austin, TX @ SXSW w/ Goodtime Boys
March 17 – Austin, TX @ SXSW
March 18 – Oklahoma, City, OK @ TBA w/ Goodtime Boys
March 19 – St. Louis, MO @ The Lemp Neighborhood Arts Center w/ Goodtime Boys
March 20 – Knoxville, TN @ TBA w/ Goodtime Boys
March 21 – Atlanta, GA @ Wonder Root w/ Goodtime Boys
March 22 – Orlando, FL @ Will's Pub w/ Goodtime Boys
March 23 – Miami, FL @ TBA w/ Goodtime Boys
March 24 – Fort Myers, FL @ TBA w/ Goodtime Boys
March 25 – Tampa, FL @ Epic Problems w/ Goodtime Boys
March 26 – Jacksonville, FL @ Burro Bar w/ Goodtime Boys
March 27 – Columbia, SC @ 5 Points Pub w/ Goodtime Boys
March 30 – Baltimore, MD @ Charm City Art Space w/ Goodtime Boys
April 1 – Philadelphia, PA @ First Unitarian Church w/ Paint it
Black, Joyce Manor, Congenital Death, Bad Side
April 2 – Brooklyn, NY @ St. Vitus w/ Goodtime Boys
April 4 – Prospect, CT @ Prospect VFW w/ Goodtime Boys
April 5 – Boston, MA @ Democracy Center w/ Goodtime Boys
April 6 – Providence, RI @ AS220 w/ Goodtime Boys, Fucking Invincible
April 7 – Montreal, QB @ Basement
April 8 – Toronto, ON @ Parts and Labour
April 10 – Royal Oak, MI @ Genesis
April 11 – Grand Rapids, MI @ The DAAC
Top photo by BTS senior Staff Photographer, Dante Torrieri from our exclusive Loma Prieta Philly Photo Review.